Home
In the world of professional American Football broadcasted on television, there are good commentators and bad commentators. Commonly, fans appreciate commentators discussing accurate gameplay, statistics, and player personalities. There is an abundance of fans around the country that claim that Cris Collinsworth is one commentator that many fans feel does a terrible job and should not hold a position as the co-host of NBC's Sunday Night Football. Fans claim that Collinsworth has a voice that is irritating and unpleasant to listen to while watching the game they love on television. We're here to show you otherwise. We believe Cris Collinsworth is actually a well-qualified and talented commentator that is perfect for the job. He is intelligent, experienced, and qualified overall for his spot on NBC's Monday Night Football. Collinsworth appears on this weekly and has a fantastic show every week.
Cris Collinsworth has been a well-known name in football loving households across America. Collinsworth was drafted into the National Football League in 1981. The Cincinnati Bengals drafted Collinsworth as the 37th pick in the draft. His career was climaxed by his appearance in Super Bowls XVI and XXIII ("Players"). He concluded his career in the NFL with 417 receptions for 6,698 yards and 36 touchdowns ("Players"). With statistics like this, he shows that his seasoned career in the NFL is deserving of a commentary position. Though fans do not always enjoy the sound of his voice, his delivery and knowledge of the game are the attributes that the network looks for in a commentator for the show. This day in age, Cris Collinsworth is more widely known throughout the football world for his, we'll say, interesting commentary. Partnering with Al Michaels shortly after the retirement of NFL legend John Madden, Collinsworth made his mark on the commentary world for his misjudged quotes about players, coaches and teams in general. Even Sports Illustrated magazine ranked him as the worst commentator in the football realm ("NFL Players Poll: Worst Commentator"). We find Collinsworth often talking about off the field subjects involving players in the NFL before he has obtained all of the necessary information. This has led to many fans crying out for the removal of Cris Collinsworth from Sunday Night Football on NBC. Their complaints have fallen on deaf ears, however, as Collinsworth still maintains his position on the show. Even appearing on the Late Show with Jay Leno, Collinsworth discusses the hateful tweets he has received on Twitter, showing no sign of care or understanding of why he receives the hatred from the fans as you can see below.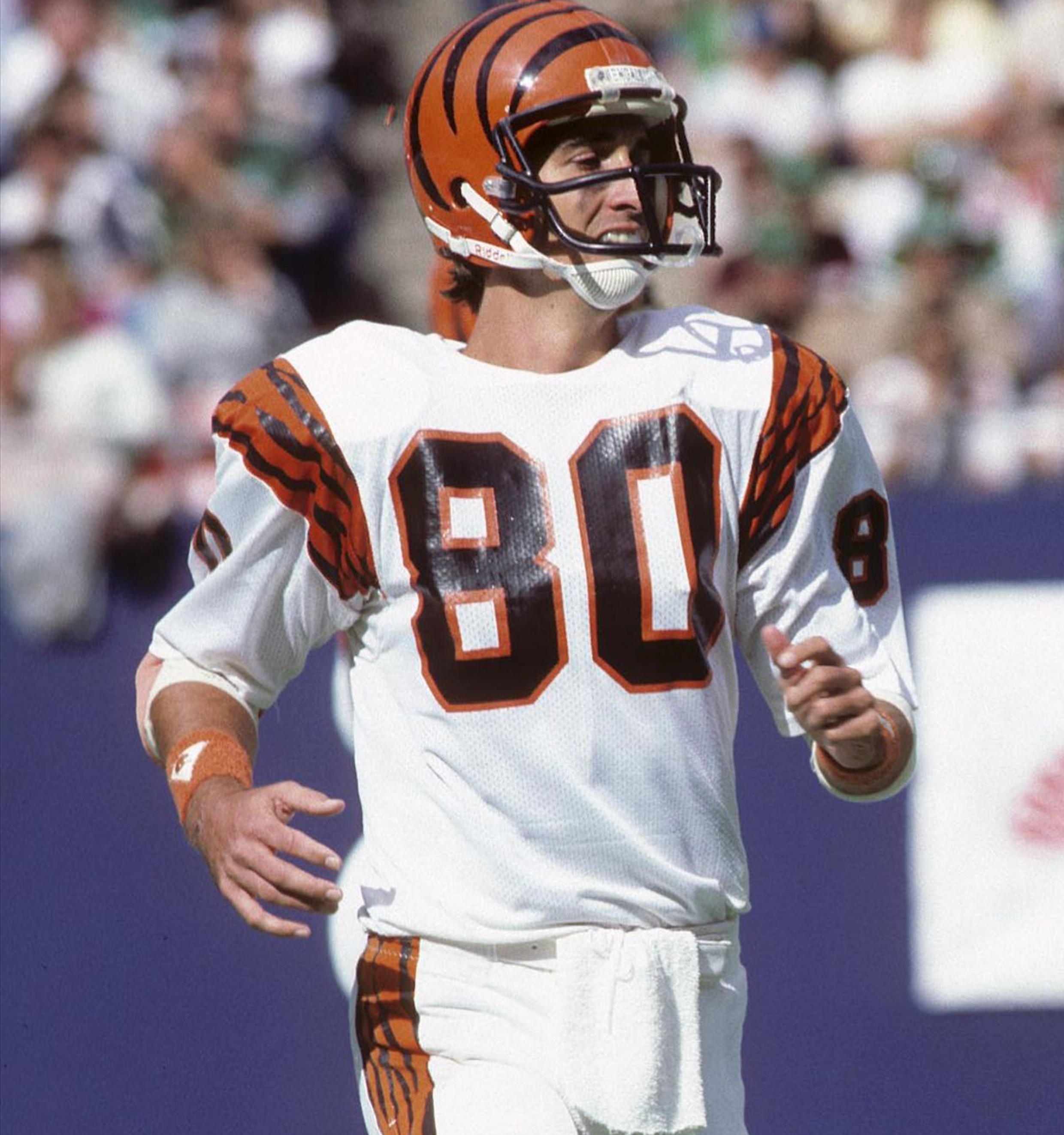 Maddening
While Collinsworth is known so well for his NFL career, which eventually led to his position on the Sunday Night Football commentary team, he seems to have gained most of his resentment by fans from his recorded commentary in the hit video game series, Madden NFL Football. From the 2009 edition of the video game to the 2012 edition of the game, Collinsworth was utilized to match the commentary that one would hear while watching Sunday Night Football live on television. Many fans have spoken out to the Madden game franchise about the removal of Collinsworth during the years he appeared in the game. The Madden franchise keeps the current favorite commentators by the fans as the commentators in the game. In the 2013 edition of the games, former NFL player Phil Simms and television show host Jim Nantz took over the roles as commentators for gameplay. This pleased many people, including ourselves, because what Collinsworth would say in the commentary recoded by the game franchise seemed rude, offensive, repetitive and just plain uncalled for by many fans of the game. From our experience, it seems as though the company and Collinsworth himself should have approached his commentary better. It also seems as though many of our peers concur with the idea that the approach that Electronic Arts (the creator of the Madden games) took to recording and delivering the video game commentary by Collinsworth was lackluster and could easily be misconstrued by fans as insulting and degrading.
Remediation is the transference of a subject from one media to another. The book Remediation refers to remediation as ""repurposing"; to take a "property" from one medium and reuse it in another" (Bolter and Grusin, 20). We notice that the remediation of Collinsworth from the television to the video game causes a lot of anger toward the former NFL player. We notice even more anger comes out of fans from what we are calling "re-remediation". This "re-remediation" would essentially be taking a subject, transferring them to another surface such as television to video games, and then returning that subject to the original surface. In this instance, "re-remediation" is the transference of the feelings people have taken from watching Collinsworth on television, hearing his commentary while playing any of the Madden games that Collinsworth appears in and transferring that emotion back toward his commentary during live football games broadcasted on television. This remediation though multiple layers causes a lot to be lost in translation, so to speak. We have all been guilty of making harsh judgments about someone from time to time, but Collinsworth might be one of the biggest cases of misguided anger due to this game essentially overshadowing his career in the NFL that included 2 Super Bowl appearances and 3 Pro Bowl appearances ("Players"). In the 2011 edition of the Collinsworth says several harmless comments about gameplay, yet are taken as personal comments about the video game player himself. For instance one comment made in the game is "and this is a talented guy, it really is! But sometimes he has a reputation for putting the ball on the ground". A comment like that is intended to state that the quarterback in the game who threw the ball is a good quarterback, but does make occasional mistakes. What players often take from a comment like that is "sometimes you play Madden well, other times you might be the worst Madden player of all time."
The next page talks about the Madden game itself. But first, take a look at the infographic to the right to get an idea of the popularity of the Madden franchise.
Game
Let's take a quick look at the video game franchise, Madden NFL football. The game was debuted in 1988 with John Madden, himself, on the cover ("Madden NFL Football"). John Madden was a player and coach in the National Football League and concluded his career with commentary on Sunday Night Football which he retired from in the 2009 season. He is revered as a great player and one of the best coaches in NFL history. His commentary was never questioned because of his outstanding professional résumé ("Hall of Famers"). The video game has been a best seller ever since and continues to break its sales record year after year ("Game Charts"). The game allows users to simulate real gameplay that one would view while watching a game on television. The user controls play calling, changing of plays, and the quarterback from the beginning of the play. You can choose to run or pass the ball and control whichever player currently possesses the ball. The same can be said for defenses as users can control any player on their side of the ball in order to stop their opponent from scoring. The interactivity and ever-improving graphics keep fans coming back for more every year. The process for getting the audio of the commentators is a long and interesting process. Here's a sneak peek at how Madden gets their commentary for their games year to year.
TV
Cris Collinsworth's television appearance is his current claim to fame. People who don't play Madden but are still football fans know Collinsworth's position as one of the hosts of NBC's Sunday Night Football. He adds his own perspective to the commentary and the game itself. From what we've heard, people's biggest complaints about Collinsworth are his "irritating voice" and his "incorrect commentary". From the chart below, we see that not only is Collinsworth not a bad commentator, but he is in fact one of the best commentators in the sports world. He positions his opinions fairly and states correct fact in regard to the game, players, coaches, and all other aspects. Fans say he rarely makes a factual error and only when he makes an opinionated statement, he tells you that it is his opinion and not a fact. We believe these accusations are false and he really is a fine example of a commentator. A prominent network like NBC wouldn't hire a man that isn't qualified to give the fans the best experience possible. His television performance really cant improve, but we are sure he it trying to do so every time he appears on camera.
Below is a chart proving that Collinsworth is, in fact, one of the best announcers in the NFL. A researcher from AwfulAnnouncing.com watched two games broadcasted by each of the below broadcasters and made notes of every time the announcer made one of the mistakes in the graphic. As you will see, Collinsworth is one of the best announcers in the league.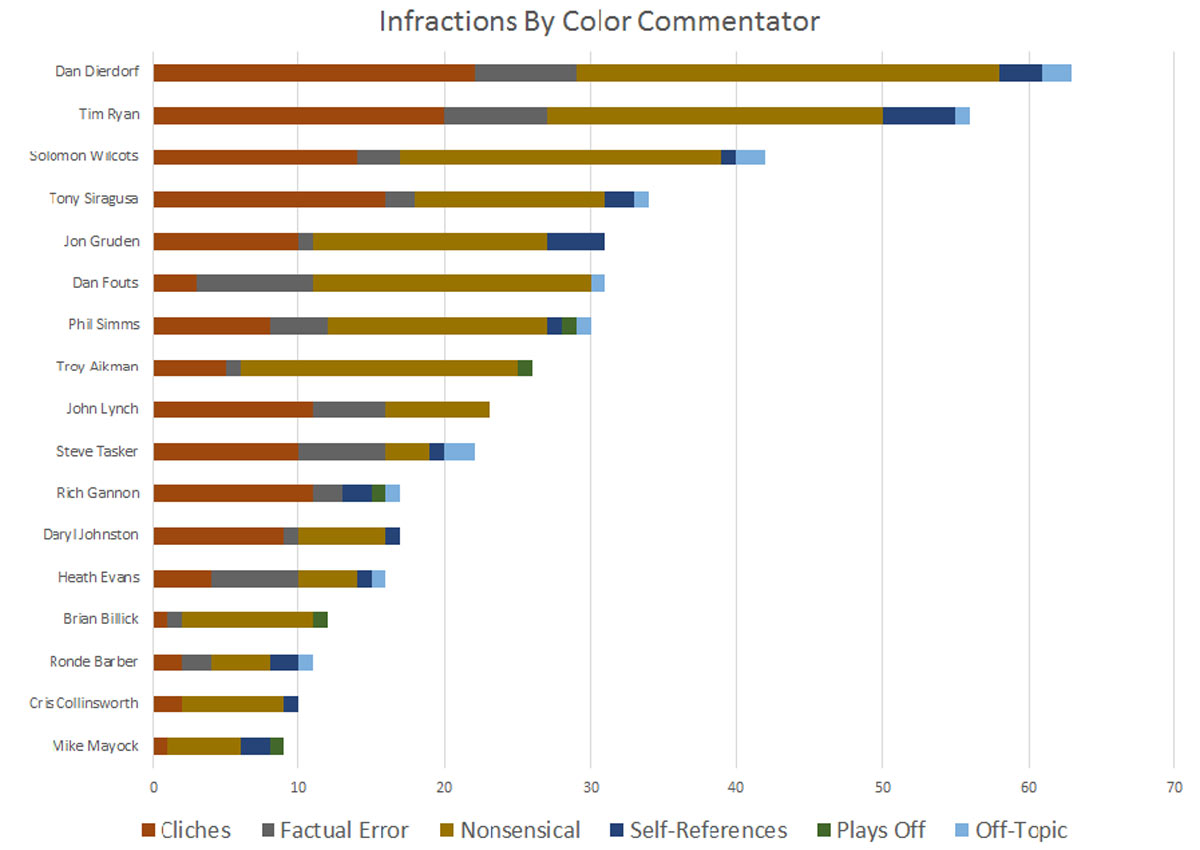 Last Call
It seems like the scripted commentary specifically written for Cris Collinsworth, which led the influx of hatred, might just be the route cause for the aggression Collinsworth receives for his live broadcasting. What if people are channeling their aggression toward the wrong person? What if poor gameplay resulting in anger on the side of the player at home is being placed on Collinsworth because he is easier to blame than themselves? What if Collinsworth is qualified to do his job and actually does it well? Maybe Cris Collinsworth is just a huge case of "wrong place, wrong time". Video game players could possibly be taking what prerecorded lines Cris Collinsworth says in his games, getting upset because they perform poorly or make an error, and use the commentary by Collinsworth as an outlet for their anger which only results in more anger. This anger, then, carries over to seeing him appear on Sunday Night Football on NBC and grows as you listen to him discuss the current game on television and fans recall the things said during their gameplay on Madden and take everything he says on television as a personal insult just as they do during video gameplay. We believe Collinsworth is the victim of misguided aggression. We think Madden players all around the world should reconsider their feelings for Collinsworth, because he is one of the greatest announcers in the NFL.
Sources
"13 reasons NBC's 'Sunday Night Football' is the best program on television." For The Win. N.p., n.d. Web. 2 May 2014. http://ftw.usatoday.com/2013/11/sunday-night-football-nbc-flex-al-michaels?sf19923082=1.
"40 Grass Texture With High Res Quality." | PSDDude. N.p., n.d. Web. 3 May 2014. http://www.psd-dude.com/tutorials/resources/40-grass-texture-with-high-res-quality.aspx.
Bolter, J. David, and Richard A. Grusin. Remediation: Understanding New Media. Cambridge, MA: MIT, 1999. Print.
"Cris Collinsworth On Twitter - The Tonight Show with Jay Leno." YouTube. YouTube, 26 July 2013. Web. 3 May 2014. http://www.youtube.com/watch?v=drkmLqW9d0k.
"Game Database-Global Sales." VGChartz. N.p., n.d. Web. 3 May 2014. http://www.vgchartz.com/gamedb/?name=Madden+NFL&publisher=&platform=&genre=&minSales=0&results=200.
"Hall of Famers." » JOHN MADDEN. N.p., n.d. Web. 2 May 2014. http://www.profootballhof.com/hof/member.aspx?PLAYER_ID=255.
Johnson, Philip. "Why We Love To Hate The Top Sports Commentators." Business Insider. Business Insider, Inc, 3 July 2013. Web. 3 May 2014. http://www.businessinsider.com/why-we-love-hate-sports-top-commentators-2013-6#!HF3KV.
"Liquid Slider 2 - The last responsive content slider you'll ever need." Liquid Slider 2. N.p., n.d. Web. 3 May 2014. http://liquidslider.com.
"Madden NFL 13 Audio & Commentary Trailer w/Phil Simms & Jim Nantz." YouTube. YouTube, 14 May 2012. Web. 3 May 2014. http://www.youtube.com/watch?v=ekIq36sLsGI.
"Madden NFL Football | Museum of the Moving Image | EA SPORTS." Madden NFL Football | Museum of the Moving Image | EA SPORTS. N.p., n.d. Web. 2 May 2014. http://www.easports.com/madden-nfl/museum-exhibit.
"NFL Players Poll: Worst Commentator - SI.com Photos." Cris Collinsworth. N.p., n.d. Web. 2 May 2014. http://sportsillustrated.cnn.com/multimedia/photo_gallery/1112/nfl.players.poll.worst.commentator/content.1.html.
"Players." Cris Collinsworth: Career Stats at NFL.com. N.p., n.d. Web. 2 May 2014. http://www.nfl.com/player/criscollinsworth/2511809/careerstats.
"Subtle Patterns." Subtle Patterns. N.p., n.d. Web. 3 May 2014. http://subtlepatterns.com/paper-fibers/.
"Top 10 all-time NFL players from Florida." NFL.com Photos -. N.p., n.d. Web. 2 May 2014. http://www.nfl.com/photos/0ap1000000204239.